Archive for the 'Tapestry Crochet History' Category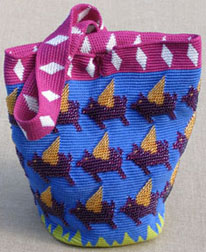 I dreamed about researching tapestry crochet in Finland, but thought it would happen "when pigs fly." So, when I was invited to teach tapestry crochet at the 2005 Crochet Days Conference in Vaasa/ Vasa, I was inspired to bead tapestry crochet a purse with flying pigs. I worked on the square base before the conference and continued onto the sides in Finland. The instructions for this purse were published by Simply Creative Crochet magazine in 2006.
The type of tapestry crochet done in Finland is similar to that of the rest of Europe. The hook is inserted into the back loop, which produces a cloth with wonderful drape and the front loop forms a horizontal line under each row of single crocheted stitches. The colored yarns are worked very efficiently by placing them on either side of the finger.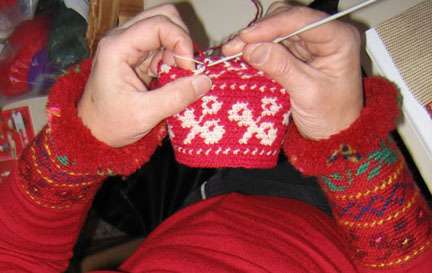 Tapestry crocheted cuffs are very popular in Finland.
More - http://www.tapestrycrochet.com/blog/?cat=7&paged=2